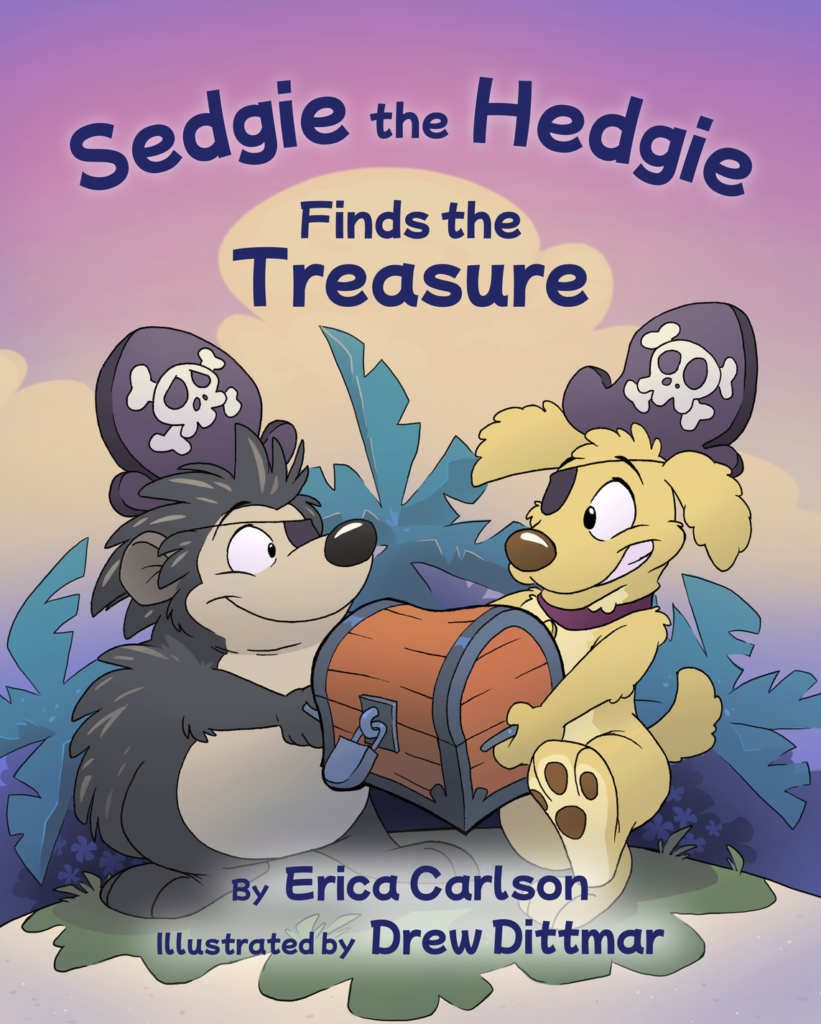 Sedgie the Hedgie Finds the Treasure
A children's book by Erica Carlson
Two very different friends set out to find buried treasure. They overcome fear and find their way using teamwork. Come along to see how surprises can twist and turn a journey into an adventure!
Buy at Barnes & NobleBuy on Amazon
"I liked it! I loved it! Sedgie was so brave! Clover was the cutest!"
—Avanelle (age 6)
"Sedgie the Hedgie Finds the Treasure is amazing! I cannot wait for so many children to find the joy in flipping through the pages and adventuring with Sedgie, Clover, and all of the characters. Fantabulous for all grade levels!"
—Nikki, Secondary Media Center Specialist and former ELA teacher
"It is the best pirate book ever! 100 stars!"
—Lyndie (age 7)
---
About the real Sedgie and Clover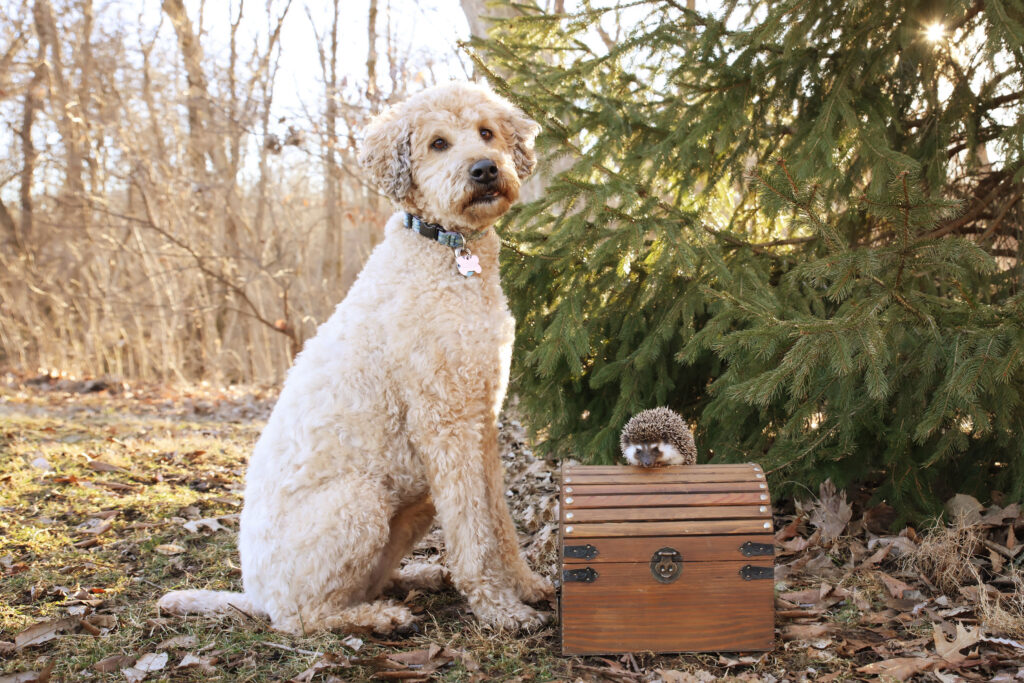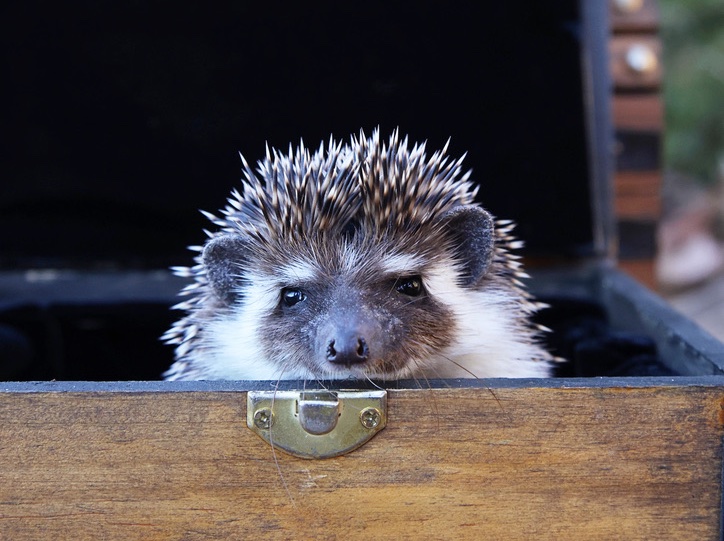 Clover and Sedgie have enjoyed a long friendship in the Carlson home. Clover joined the family in September of 2011, becoming their first "fur child." Sedgie the Hedgie became a magical addition in November 2011 when Erica auditioned with her magic show to become a summer performer for the Columbus Metropolitan Library.
Sedgie's favorite activities include running in his wheel, sniffing, eating mealworms, exploring hedges, sleeping during the day when he's not appearing during a magic show, and nibbling shoes. Clover's favorite hobbies include running with Erica, chasing leaves, catching snowballs, doing tricks, and getting belly rubs.
Even though Sedgie the Hedgie has "passed the torch" to other hedgehogs over the years, the hedgehog/dog friendship has remained. They are just so curious about one another. Clover protectively watches over Sedgie if he's out of his cage while Sedgie sniffs, climbs, and explores, sometimes using Clover as a snuggle buddy if she will let him.
By paying attention to the body language of Sedgie the Hedgie and Clover the pup, we can learn so much about these two unlikely friends. Just like humans have personalities and emotions, animals do, too! Taking time to get to know your (human or animal) friends makes them a treasure!
---
Schedule an Author Visit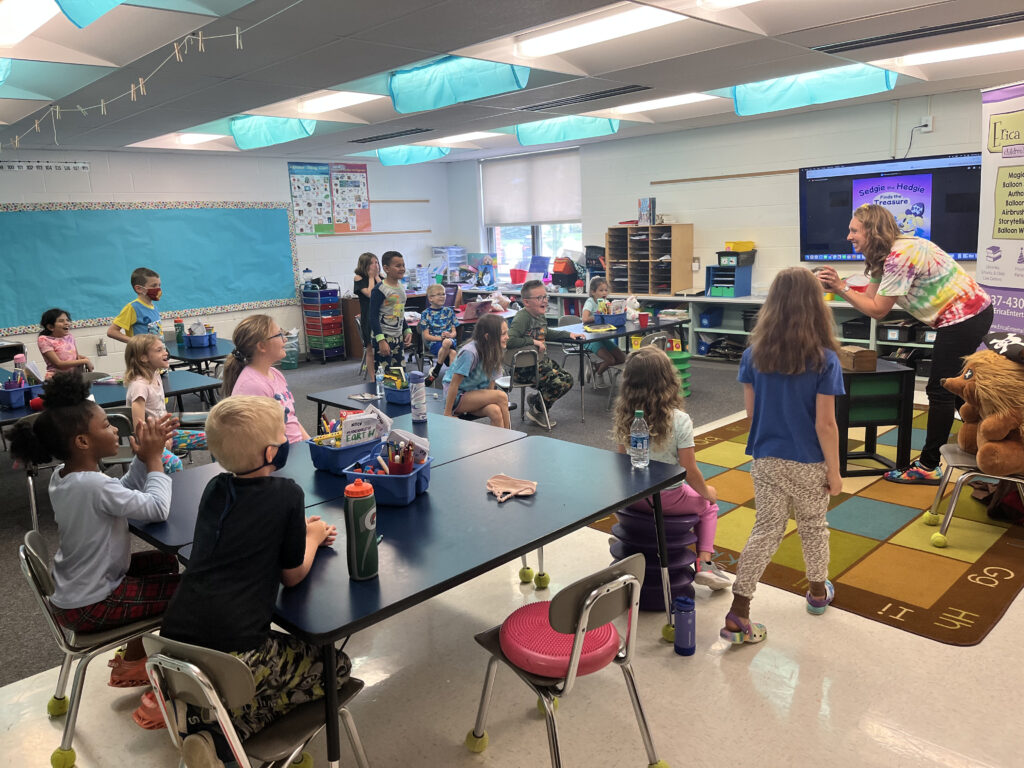 Erica can come to your school or library for an interactive visit that will inspire children and teachers alike! She will use her programming experience to encourage children to make connections when reading and to find their spark to write.
Grades PreK–2
Interactive read-aloud and an up-close visit with the REAL Sedgie the Hedgie!
"Rockin' Pirate" Magic Show featuring Sedgie the Hedgie
The Magic of Writing Presentation
Treasure Handout (What would be in YOUR treasure chest?)
Grades 3–5
Interactive read-aloud and an up-close visit with the REAL Sedgie the Hedgie!
The Magic of Writing Presentation
Balloon Workshop (Learn how to twist a balloon into Clover the pup!)
Writer's Workshop
Contact Erica to schedule a visit
---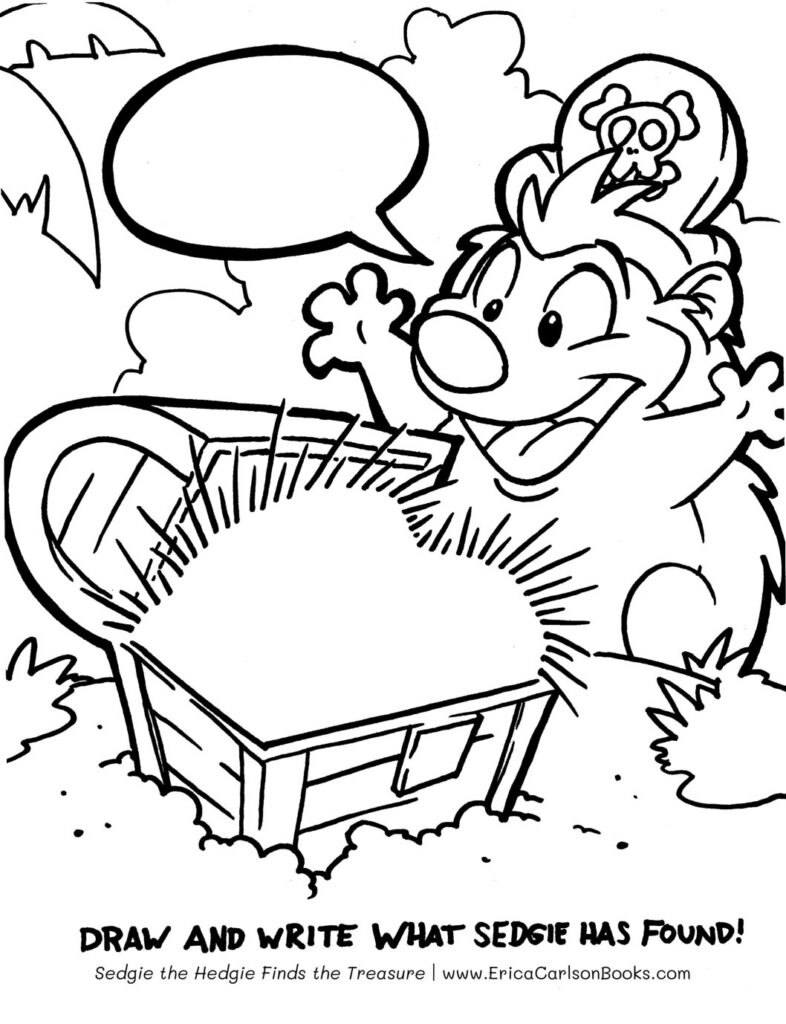 Print this coloring page and get creative!
---
About the Author and Illustrator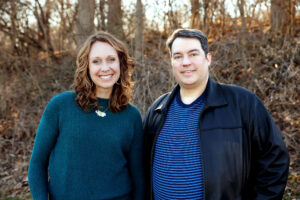 Erica Carlson is a children's entertainer who has written over ten magic and storytelling shows that she performs with her live, magical sidekick, Sedgie the Hedgie; this book was inspired by her pirate-themed magic show. She earned her Master of Education at The Ohio State University and is a former language arts educator.
Erica loves sparking creativity and refueling people's joy. When not sculpting balloons or performing, Erica finds adventure in the day-to-day flow of life, enjoys outdoor picnics with her family where they eat "tastes like summer" (tomatoes, fresh mozzarella, and basil), and runs with their dog, Clover. Sedgie the Hedgie and Clover live with Erica in Hilliard, Ohio along with her husband and three children.
Drew Dittmar is a graduate of the Columbus College of Art and Design where he studied illustration. This is his third published book. When he isn't drawing, he likes spending time in the many nature trails around Ohio.